Convenient and affordable basic care.
To better serve you and your pets, Southeast Georgia Veterinary Clinic also offers basic services through our Mobile Unit. The Mobile Unit serves Brantley County on the first Saturday of the following months - February, April, June, August, October, and December at the Satilla Grocery Shopping Center.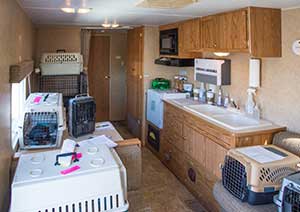 We are available from 8:30 a.m. until 11:00 a.m. for vaccinations, heartworm testing, and prevention.
Low-cost spay/neuter is still available in our stationary clinic.
For more information, please call or text (912) 554-8388 or 912-554-VETT.